Here are the main points from the July meeting: Councillor Sue Kempson congratulated Dunbar on successful recent events which include the DCC Awards, Civic Week and the Yeomanry parade. There are many outstanding town maintenance issues which have been reported to...
read more

The July outing of the Society saw members visit Marchmont House near Greenlaw in the Scottish Borders. The house is one of Scotland's finest country mansions. It is an imposing Grade A listed Palladian masterpiece built in 1750 by Sir Hugh Hume- Campbell, 3rd Earl of...

Members enjoyed their first outing of the summer with a visit to Portmore Gardens at Eddlestone near Peebles. Once part of the Blackbarony Estate, Portmore was purchased by the Earl of Portmore in the 18th Century. It was later sold to the Mackenzie family and the...

the Lothians and Border Yeomanry who have a long historical connection with Dunbar were granted the freedom of East Lothian in a ceremony in the town today. The unit paraded thopugh the High Street to the War Memorial at the Parish Church. After a short address by...

The Annual Awards Night was held on 17 June 2019 in the Dunbar Council Chamber. A total of 15 groups and individuals from all walks of life were honoured for their achievements and for their contributions to the Dunbar Community. The Bowe Cup: was awarded to Darren...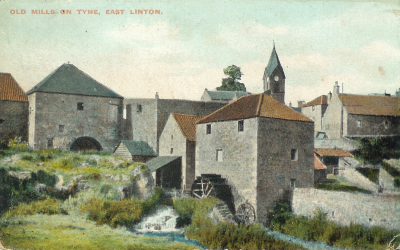 Saturday 3rd August. A guided walk round the historic village of East Linton with Garry Menzies This historic town lies north of the river Tyne with the Lynn that supported four mills. The 16th century "Linton brigges" over the Tyne on Great North road from the south....

Saturday 7th September A walk at Tyninghame looking at the mansion house, the ruin of St Baldreds Kirk and the site of the old village of Tyninghame. The mansion house, incorporating part of an early tower house, was extended in 1617. Built round a courtyard, it was...

YES IT'S THAT TIME OF YEAR AGAIN! Stenton Village Gala will be held on Sunday 26th May on Stenton village green, park and hall. The fun kicks off with the children's 'Food' fancy dress on the green.  Rodeo Bull, Assault Course, Tombola, Cake & Candy, Bar, BBQ,...

Spott Community Association's Annual Family Nature Walk and BBQ will be held Sunday 12 May. Please meet at the Village Hall at 11am. ALL WELCOME BBQ - Adults £4, Children £2

Dunbar & East Linton Area Partnership are holding their annual public meeting this coming Thursday at 7:30pm in the Bleachingfield Centre, Dunbar. This is an Opportunity to hear about the work of your Area Partnership and ask questions about the work they...

Friends of Winterfield Fun Dog Show Winterfield Park Sunday 23rd June, 2019 2pm registration.  Classes commencing at 2.30pm Entry: £1 per class Free poo bags