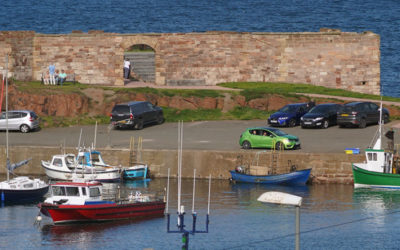 The Dunbar and East Linton Area Partnership are reviewing their Local Area Plan. This is your chance to have a say about where our future funding and efforts should be focussed. the Area Partnership has a small amount of devolved funding from east Lothian Council,...
read more

A very enlightening and interesting evening for all who attended DDN's first public event. Our thanks  to Michael Huddleston, Dementia Advisor with Alzheimer Scotland for his informative and very enjoyable presentation. We all left with a greater understanding of the...

The Castle gallery in Inverness was one of the first galleries in Scotland to support my work, holding exhibitions of my glass. Denise and her team still do a great job showing local talent and artists further afield. I was therefore delighted to take part in this...

Stenton Flower Show will be held in Stenton Village Hall on Saturday 7th September. Doors will be open at 2:30pm with the opening ceremony at 3pm. The show will close at 4:30pm. All entries are from the Stenton,  Spott and Whittingehame parishes and from Biel Estate....

As mentioned in the 'Stop Press: Robert Burcher's Visit to Dunbar' article in the Spring 2019 Newsletter, Robert – a Muir enthusiast from Meaford, Canada - has very kindly offered to give an illustrated talk about the "Canadian John Muir" when he visits Dunbar. This...

Learn a little of what it is like to live with dementia, so you can be supportive to people you know through your family, community or work. Presentation and discussion with Dementia Advisor Michael Huddleston, from Alzheimer Scotland. WHEN?-Thursday 19th September ...

The Climate Emergency and Me Sustaining Dunbar Annual Members Meeting (AGM) 7pm Tuesday 3rd September Belhaven Church Hall 6.30pm Doors Open 7pm Bread and soup and more 7.30pm Annual report and presentation 8pm The Climate Emergency and Me How can we face up to the...

7pm, Sunday, August 18th Our Lady of the Waves R.C. Church Hall, Westgate, Dunbar Tickets*, £8 Friends of John Muir's Birthplace is proud to host the Dunbar premiere of a new feature documentary on John Muir. Independent filmmaker Michael M. Conti will attend the...

Notice of Extraordinary General Meeting Wednesday, 14thAugust at 6:45pm for 7:00pm John Muir's Birthplace, 126 High Street, Dunbar Agenda (i) Welcome and Introduction (ii) Motion: Waiving of membership dues Current members will vote on the motion to waive membership...